Jakarta, Indonesia: With daily infections reaching 40,000 for two days in a row, Indonesia has surpassed India as Asia's new hotspot for the coronavirus pandemic, Nikkei reported.
Indonesia officials are warning that the covid delta form is spreading outside of Java's most populous island at an alarming rate.
According to Health Minister Sadikin, the administration is preparing for a scenario in which the number of cases rises by 30% in the next two weeks and accelerates in other areas.
On Tuesday, the largest economy in Southeast Asia reported 47,899 new infections, a new high, up from 40,427 the day before.
Meanwhile, India's covid cases fell from 37,154 to 32,906.
What is worse, while having more COVID-19 cases on a daily basis, Indonesia's population of 270 million people is only a sixth of India's.
According to ourworldindata.org, Indonesia now has roughly 132 covid cases per million inhabitants, compared to India's 26 as of Sunday, Nikkei reported.
While the daily death toll in Indonesia was less than half that of India (2,020), the country's per capita death rate is higher: 3 per million inhabitants, compared to fewer than one in India.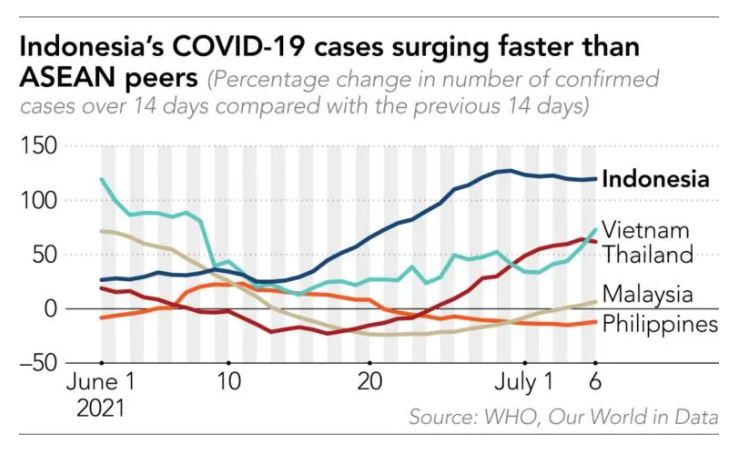 The estimates do not account for Indonesia's poor track record when it comes to testing and tracing.
Over the last week, the case positivity rate in Southeast Asia (the ratio of confirmed infections vs. persons tested) has been around 30%, compared to 2% in India.
As of Tuesday, India still had the most confirmed coronavirus cases in Asia, with 30.9 million cases and 410,784 deaths, followed by Indonesia with 2,615,529 cases and 68,219 deaths.
However, while India's numbers continue to decline from a high point in May, Indonesia's worst outbreak since the pandemic began is showing no signs of slowing down the report said.
According to Health Minister Budi Sadikin, bed occupancy rates for COVID-19 patients have surpassed 70% in 12 provinces,
Half of the occupied Covid beds in the nation are on Java and the remainder on other major Indonesian islands.
Despite the recent conversion of several institutions into hospitals only for the coronavirus, the occupancy rate in the nation's capital, Jakarta, is close to 90%.
Meanwhile, amid the unprecedented situation in the Muslim-majority nation, the Japanese government has backed special flight services to repatriate Japanese nationals back home.
According to Chief Cabinet Secretary of Japan, Katsunobu Kato, the Japanese government will finance special flights for nationals desiring to return home from Indonesia, where illnesses are on the rise.
"From the viewpoint of protecting Japanese nationals, we have decided to take measures … so that Japanese people who wish to return can return to Japan as soon as possible, and as many people as possible," he said.
"We plan to undertake similar efforts in response to requests from Japanese residents after that," he says.