Kabul, Afghanistan: One particularly shocking viral social media post shows people dropping from flight mid-air as it takes off from the Afghanistan airport.
Other images and video clips show throngs of people falling off from the airport terminals as terrified Afghans desperate to flee.
Thousands that taken refuge to the Kabul airport tarmac, refusing to return to their homes in the city, as the Taliban prepared to announce Afghanistan as a new Islamic Emeritus.
At least five people have been reported dead at Kabul airport as Afghans escape the nation following the Taliban's takeover.
Desperate scenes have been arriving from the embattled nation after radical Islamist groups seized the power in the Muslim-majority country.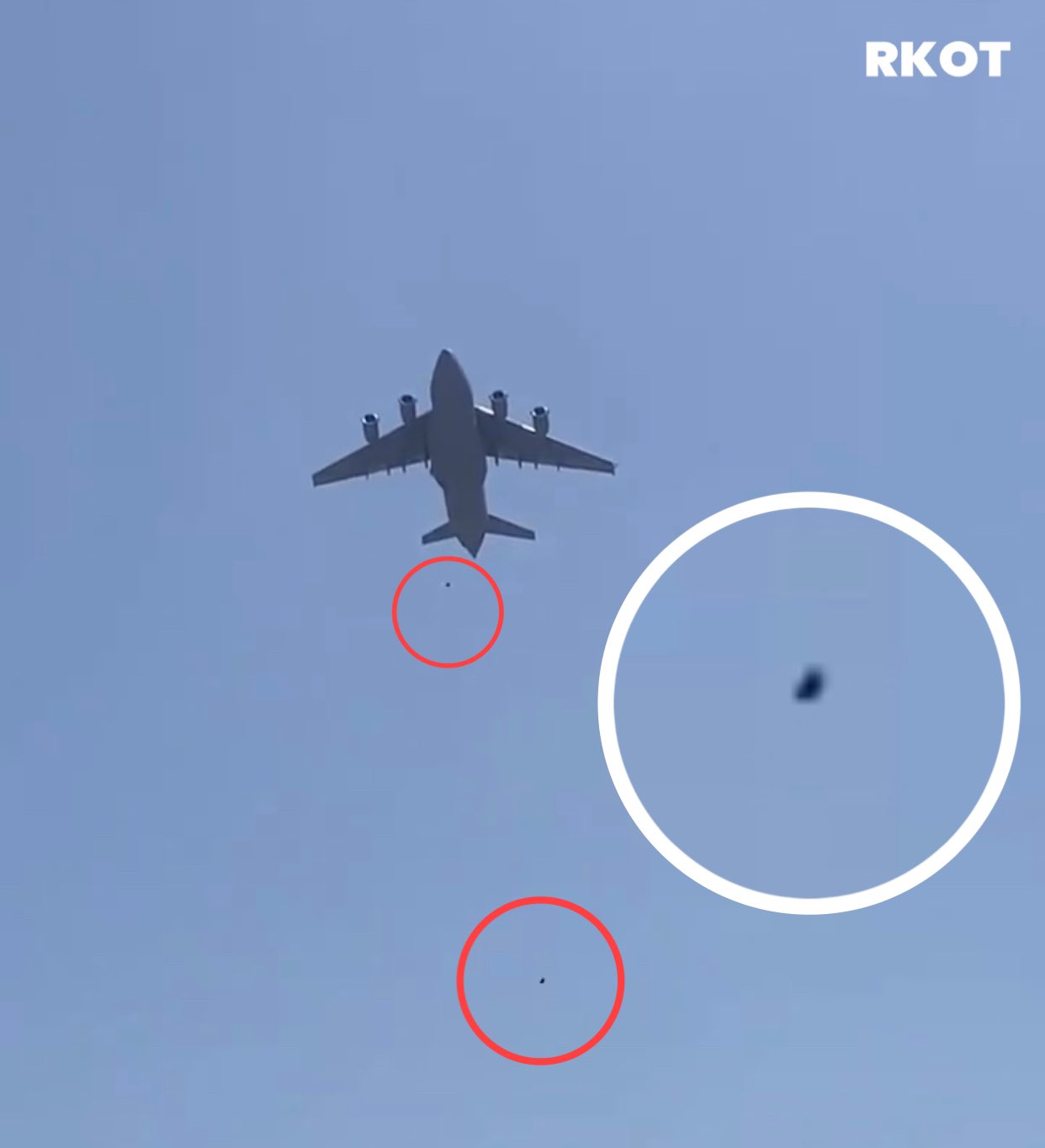 According to the US, all diplomatic personnel has been evacuated to the airport.
Over 60 countries have released a unified statement urging the Taliban to allow civilians to flee.
Afghan President Ashraf Ghani has reportedly fled the country to Uzbekistan.
The Taliban stormed into Kabul unchallenged and took control of the presidential palace.
Western nations rush to evacuate
Western nations rushed to evacuate their citizens and local staff from Kabul on Monday after the Taliban's lightning-fast takeover of Afghanistan.
The Islamists returned to power after the government collapsed on Sunday, as Afghan President Ashraf Ghani conceded the Taliban had won and fled the country.
As thousands of people mobbed the city's airport trying to escape the group's feared hardline brand of Islamist rule, the US and 65 other countries issued a joint statement urging the Taliban to allow Afghan and foreign citizens to leave.
The US government said Monday it had secured Kabul airport, but there was still chaos with witnesses reporting soldiers firing shots into the air to ward off the crowds.
Two armed men were shot dead by the US army at Kabul's airport as thousands of people flocked to the terminal seeking to flee Afghanistan, a Pentagon official said.
"In the thousands of people who were there peacefully, two guys who had weapons brandished them menacingly. They were both killed," the official said, insisting on anonymity.
President Biden is scheduled to address the nation about Afghanistan's situation.
Authorities then cancelled all remaining commercial flights, citing the threat of looters.
However several countries managed some evacuations on Monday, with questions lingering over the fate of the many Afghans who helped foreign embassy staff and troops over the last two decades and face reprisals from the Taliban.
Turkish media reported that a flight from Kabul with 324 Turkish nationals landed in Istanbul on Monday.
Italy said about 50 of its diplomats and 20 Afghans reached Rome on Monday after being flown out of Kabul.
A plane carrying 46 Czechs and some Afghans landed in Prague on Monday morning.
Dutch Defence Minister Ank Bijleveld tweeted that a military plane was en route to evacuate interpreters and local staff along with their families from the country's embassy in Kabul, with several flights expected.
'Difficult conditions'
All Swedish personnel in Afghanistan were evacuated to Doha overnight, while Finland said it would help its embassy staff and up to 130 Afghans leave the country.
Norway said all its embassy staff in Kabul had now been evacuated. Denmark's defence ministry said it had evacuated a group "under very difficult conditions" but that a large group was still waiting to get out.
Germany is planning to deploy soldiers to aid the evacuation of its nationals and Afghans in danger from the Taliban, parliamentary sources told AFP Monday.
In Paris, the foreign ministry said military reinforcements were being deployed to the United Arab Emirates to help with evacuations through Abu Dhabi on Monday.
More than 600 Afghans employed in French organizations have already arrived in France with their families, the French government said Friday.
Britain ordered the deployment of 600 troops to evacuate their nationals on Thursday, as the Taliban overran key regional cities last week.
Defence minister Ben Wallace said 370 British employees and citizens had been evacuated in recent days, and a group of 782 Afghans will be evacuated in the next day and a half.
"Our goal is to reach 1,200 to 1,500 evacuees a day," he added.
NGO's work day-night
The International Committee of the Red Cross (ICRC) said it has committed to remain in Afghanistan, writing in a tweet that they have worked here for 30 years and will not give up now.
At the moment, there is no fighting in Kabul. If there had been violence in Kabul, civilian suffering would have been huge, Eloi Fillon, the ICRC's mission chairman, said on Monday.
However, it is apparent that there are significant humanitarian needs as a result of weeks of intensive warfare in places such as Kandahar, Herat, and Lashkar Gah, he said.
Amnesty International, a leading global human rights mission has called on the international community to act "decisively to avert further tragedy", after the Taliban's takeover of power in Kabul.
"What we are witnessing in Afghanistan is a tragedy that should have been foreseen and averted," said the organization's secretary-general, Agnes Callamard.
"It will only be compounded further without swift and decisive action from the international community. Thousands of Afghans at serious risk of Taliban reprisals – from academics and journalists to civil society activists and women human rights defenders – are in danger of being abandoned to a deeply uncertain future."
With AFP input.