Kolkata, India: A jewellery ad by an Indian brand featuring a trans woman is touching the hearts of millions.
The touching episode of one-minute-forty-seconds tracks the journey of an awkward teenager with facial hair and 'transitioning' struggles and her metamorphosis into a stunning and confident bride.
This is one of the rarest ads featuring transgender artists and a storyline adopted by a nearly-100-years-old traditional jewelry house.
The film stars Meera Singhania Rehani, 22, and it illustrates the love and acceptance that the protagonist receives from her family, with each milestone in her life being commemorated by the gold jewelry that they gift her.
The ad film, titled 'Pure as love' has been so-far watched 9,18,893 times and counting on Youtube, and millions of views on other social media platforms.
"This is how we Malayalees think beyond. Proud to be in Kerala," read one Youtube comment.
"Why aren't people talking about this more? It's a watershed moment in the history of jewellery ads. A brave move. Will it help sell the product, I don't know. But it has dared to go where no one has before❤️," wrote another.
The role of the trans woman was played by Meera, a DU student of Sociology who came out to her family two years ago.
In the ad, she portrays her transition, not just from one gender to another, but from one realm of possibility to another.
'Skeptical' but 'revolutionary'
Kerala, where the jewellery brand is based, is India's most trans-friendly state, having been the first to introduce a Transgender Policy in 2015 to combat stigma and prejudice towards sexual minorities.
However, transphobia is as prevalent in Kerala as it is in India.
Speaking to the BBC, the ideator of this ad, Navya Rao, online marketing head at Bhima said the concept of the content was met with fear and apprehension from his colleagues.
"All our previous ads had happy heterosexual brides. So we were worried about how people would perceive it and react to it," Rao told the BBC.
"Most of our stores are in rural parts of the state. We were not sure how much exposure people there would have had to these issues."
The marketing team behind the Bhima Jewelry, which has stores across South India and outlets in the UAE, said they knew the story could backfire.
Last year, a jewellery ad featuring an interfaith couple by Tanishq drew controversy on social media, and the memories are still fresh.
Even actor Meera who played the lead role thought they would fan "a lot of conflicts, especially since the ad shows a Hindu wedding which directly challenges the Hindu hetero-patriarchal system".
"I've never seen any traditional brand do something so drastic. To take that kind of a risk for a traditional jeweler was revolutionary," Sudha Pillai, a writer and brand strategist at Firework, a video platform told the BBC.
'I did not want…'
Speaking to the BBC, Meera opened up about her experience of playing the role of a trans woman to the Indian audience.
"I didn't want someone to appropriate my trans identity for commercial use," Meera told the BBC.
She said she was also very nervous since the film "involved transition and as a pre-transition person I'm shown as a man with a beard."
"But when I read the story and researched about the director, I said yes. And I'm glad I did. Doing this has also helped me become more comfortable with myself," she told the BBC.
In India, there are an estimated two million transgender persons, and the Supreme Court decided in 2014 that they had the same legal rights as other genders.
In 2019, the Indian government passed a transgender protection bill that outlawed discrimination of trans people on the fronts of education, employment, healthcare, access to goods, facilities, opportunities available to the public, right to movement, right to reside, rent, or otherwise occupy the property, opportunity to hold public or private office, and access to a government or private establishment in whose care or custody a transgender person is.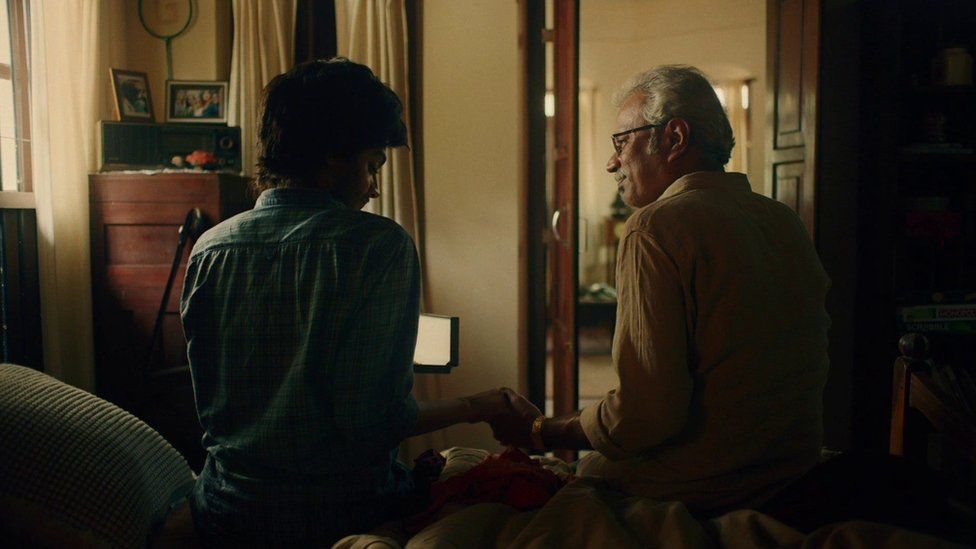 However, despite the laws, transgenders in India live largely sub-standard lives, often facing side-eyes and prejudices from society.
Transgender women in India are often the target of systematic patriarchy, rampant sexism, and brutal abuses, especially in rural areas.
They are often kicked out of their homes and in most cases and are forced to take on odd, undignified jobs like begging, dancing, and even prostitution.
Although the tables are turning for trans people in India, also called the 'Hijra' community, they aren't immune to prejudices. Human Rights Watch, a global humanitarian non-profit dubbed the 2019 law as inadequate.
Transgender people have long been a part of Indian culture with mentions in mythologies, the Ramayana, and the Mahabharata, among others.
Watch the video below: