Kolkata, India: Linda Evangelista, one of the original 1990s supermodels who dominated the catwalk and fashion covers in the 1980s and 1990s along with Kate Moss and Naomi Campbell claims that she is "permanently disfigured" as a result of a botched non-surgical cosmetic procedure.
The 56-year-old stated that five years ago, she encountered an unusual cosmetic adverse effect of the treatment that caused her fat cells to grow.
Cold temperatures are used to remove fat deposits in specific parts of the body in this non-surgical therapy, which has increased in popularity in recent years.
Evangelista claimed in an Instagram post that she had difficulties after undergoing a technique known as "CoolSculpting" (which involves "freezing" fat on the body and is akin to body contouring) that resulted in a drastic alteration in her appearance, the Guardian reported.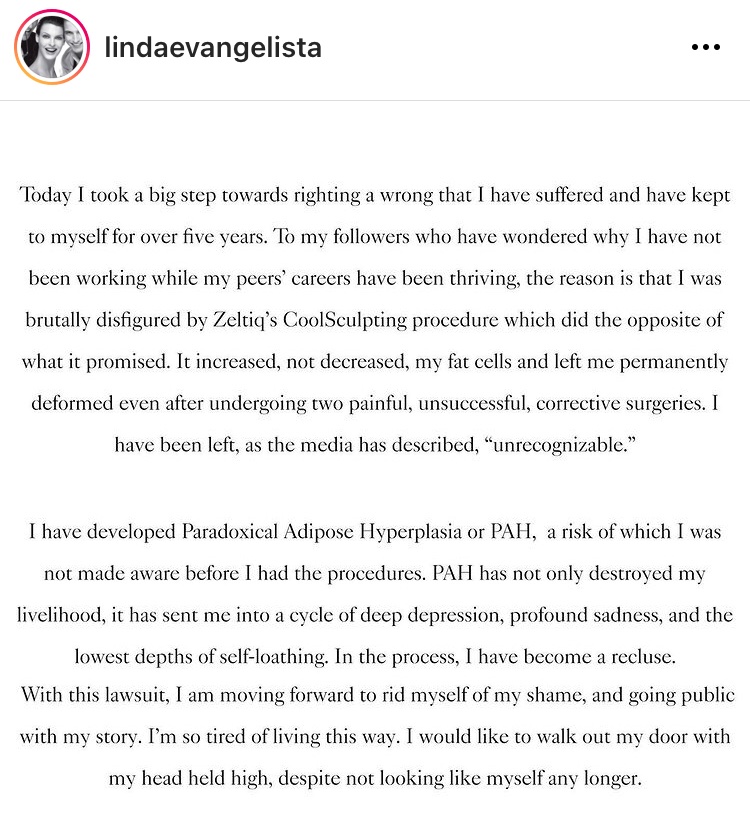 "I have developed Paradoxical Adipose Hyperplasia … (it) has not only destroyed my livelihood, but it has also sent me into a cycle of deep depression, profound sadness and the lowest depths of self-loathing. In the process, I have become a recluse."
For the past five years, the model claims to have kept to herself. I've been rendered 'unrecognisable, as the media has put it, she said.
The Canadian model also shared she did undergo two painful corrective surgeries, which had the opposite effect.
"To my followers who have wondered why I have not been working while my peers' careers have been thriving, the reason is that I was brutally disfigured by… [a procedure] which did the opposite of what it promised," Evangelista explained in her post.
The actress said in a social media post that she wanted to tell her tale publicly so she could go on with her life and that she would be suing the firm she claimed was to blame.
The company that Evangelista claims to have utilised has yet to respond to a request for comment from the BBC and the Guardian.
Gwyneth Paltrow and stylist Karla Welch, as well as designers Jeremy Scott and Brandon Maxwell, expressed their support in the comments beneath Evangelista's article.
"Paltrow posted a red love heart emoji, while Scott wrote: "You are and always will be a supermodel, now adding super role model of courage to your glorious resume."